The ukulele is one of the most popular musical instruments. It's easy to play and will surely be good fun for both beginners and masters.
Why should you start playing the uke? Here are five reasons to do it!
1/ It's compact, beautiful and, easy to customize
The size of one ukulele is considerably smaller than any other musical instruments. As a result, it won't occupy much space inside your home.
You can put your uke on top of your wardrobe without the fear of it falling. Toss it inside your car trunk. Bring it to the beaches. Get one on the plane. It's a piece of cake.
Furthermore, thanks to its size, a ukulele can have anything from colorful stickers to exotic textures on it. Models with bright colors and animated characters should be perfect for young children.
Performers can get their signature versions in carbon fiber. You can literally fit anything on the ukulele surface, no matter how basic or luxurious it is. Visual impressions can be quite important in the world of music.
Some people actually spend their money on musical instruments solely for their design. Ukuleles are no exception. Some people I know love its iconic shape and are willing to pay for good-looking models.
The cuteness of the ukulele is hard to resist. You can use one for entertainment and look as well. I'm sure it'll boost your confidence to a new level!
2/ It's easy to learn and play
The learning curve of the ukulele is considerably less steep than almost any other instruments nowadays. I'd recommend anyone who's new to music to start out with the ukulele.
The ukulele is among the fastest in term of learning speed. My learning experience has been a whole lot of fun. Picking up and playing would take you less than a month.
With four strings, chord formations on the ukulele turn out to be less complicated than on other stringed instruments. Some chords even require pressing one string. Remembering chords is also a child's play. With a 30-minute session, some learners can have the basics already.
What is more, the nylon strings of the uke requires no effort to press. Many people struggle with guitars or basses as they don't have much force within themselves. This musical instrument is painless.
If you want your child to approach music playing, the ukulele would be a phenomenal departure.
3/ A ukulele won't cost much
It may take you several thousands of dollars for a supreme guitar or electric keyboard, but the best ukulele on the market is relatively inexpensive.
Prices for one uke can be anywhere from $75 to $300. You can have some decent choices at around $50 too.
Furthermore, there are four sizes to choose from (soprano, concert, tenor, baritone) that can suit your needs and budgets.
As I mentioned before about its size, a uke uses less material and workload to build. That's why it may seem so cheap compared to other types of instruments, but its quality shows.
The ukulele is one of the most inexpensive investments you can make if you need to experiment with your music interest. After all, if you plan your transition from the uke to another instrument, you won't regret much.
Keep in mind, though, as you wouldn't want to spend only like $20 for a ukulele. It may not function properly. Your musical experience will, therefore, be affected quite severely.
4/ Ukuleles are great for composing
You may consider the simplicity of the uke to be its disadvantage but turns out that's quite a strength, too.
Complex musical instruments allow people to get creative, but that's quite time-consuming. With the limited abilities of the uke, you can figure out more clearly the way you want your song to sound. Songwriting with such boundaries, if done right, can yield unbelievable results.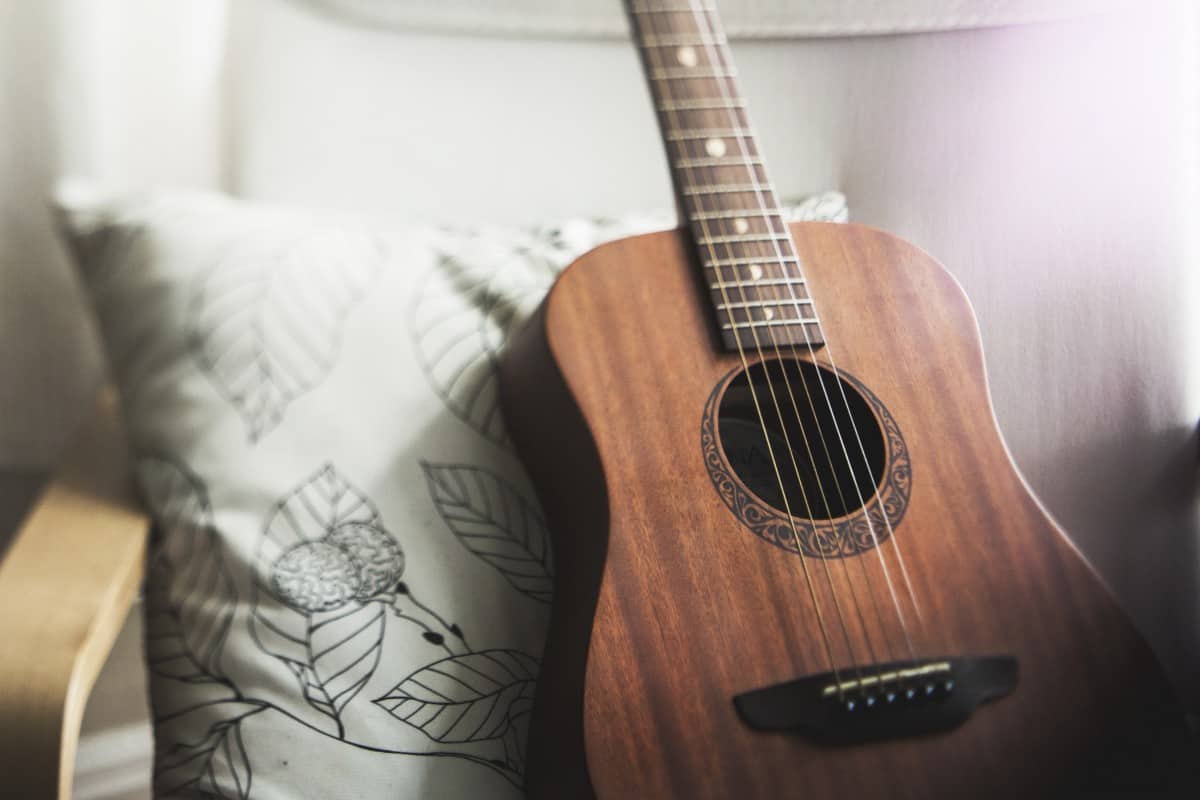 A piece of music is also unique with a ukulele backtracking. In a world of computer-made tracks, a tune with a ukulele can breathe fresh air into people's souls.
It has a cute melodic tune to it thanks to its nylon string and unique resonance. Combined with proper singing techniques, you can make the world go crazy for your music.
Some artists have made use of the uke in their work. Twenty-One Pilots has a ukulele for live recording sessions. James Blunt's hit 'Postcard' features ukulele rhythm, which James played himself. The punchy, Hawaiian vibe of the ukulele fits well with summer songs too.
5/ It's fun to play and listen to
With a small size and weight, the ukulele is perfect for leisure trips. Camping nights or beach visits would be so dull without the sound of it. As a lot of songs can adapt quite quickly to the ukulele, you have tons of options to sing along
The uke will put a smile on everyone's face, given the tones it has. I've been on the internet for a while and found out that upbeat tracks feature ukuleles frequently. That'll surely be a good motivation for anyone who wants to master the ukulele art.
Even the guitar guy in your group of friends can familiarize himself with your instrument, as guitar skills translate well into the uke. Let's make jam sessions more lively!
Conclusion
The ukulele is excellent to pick up, whether you're used to playing guitars or start as a beginner. It's portable, affordable, and friendly as well.
Its joyful, punchy tones make it a delight to perform and open to everybody. Get one for yourself now!